Marketing
Best Ideas to Boost Your BigCommerce Sales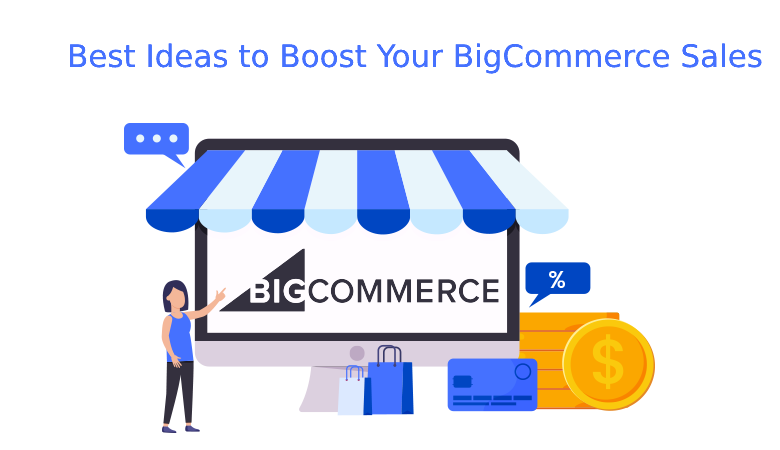 Starting your very own eCommerce business is difficult and investing in its growth is even harder. Setting up an online website for a small-service-based business is easy with BigCommerce. BigCommerce is one such online platform that can help you make fast money without putting in much effort, money, and time. What can be better?
After creating your website, are you now looking for effective ways to enhance your Big Commerce sales? Worry not, as we are here to help you in this.
Creating an online store can be somewhat easy if you have a little knowledge about the same, but the most difficult part is attracting potential buyers later, though. Here are some of the most effective tactics for increasing your BigCommerce sales.
Tip 1: Try Getting Paid Traffic
One of the most efficient ways of generating high BigCommerce sales is by getting a BigCommerce Website Developer. Another is by paying for traffic. Have you ever heard people saying that they have invested a lot of money online on their website but got the least return? This is because many people have little or no idea of using Google Ads and trying it out without being careful with their spending.
If done properly, it can be quite affordable. The key to getting traffic on the online website is to simply invest some small amount of money and test your advertising campaigns. Also, it is essential to have a well-developed targeting strategy so that the right people can see all your ads.
Just in case you are a bit insecure about advertising yourself, worry not, as BigCommerce can help boost sales with the help of the various advertising tools and different types of apps in their marketplace.
Some of these free ones include ClevereCommerce Google Ads for BigCommerce. Within a few days of using this app, you will be able to create your advertising campaigns on Google. Not just that, you can even select a maximum daily spend and your target audience. This way, you will be able to take control of the ads on your website completely.
If you want to save money on your first Google Ads campaigns, you must promote your products by using Google Ads right away.
Tip 2: Create Brand Awareness and Trust
After clicking on the ads, potential customers will visit your online website, but once they visit your page, it's solely your responsibility to convert those visits into sales and customers into buyers.
Usually, every customer will navigate the website much before buying any product from your online platform until they've gained complete trust on different stages of the website. This includes easy navigation through the product page, easy add to cart, and an equally easy checkout process.
At such times, to improve your eCommerce website, you can take into consideration several things:
· You can add reviews to your products or an entire product page. This won't just create proof that you have verified purchases but will also help the customers trust your products' quality and genuinity. Almost about 77% of potential customers check online reviews much before they go ahead to make purchases.
· Install chatbots so that the customers can get queries answered in your absence. If possible, allow live chat so that they get satisfactory answers to all their questions. Users usually prefer a live chat option over any other customer service because it's quicker and even more reliable.
· A minute fault in the checking out process can make the buyers back out and exit the website. During the checkout process, it is advised to Implant trust badges, as this is the most sensitive part of the shopping process. Many people even leave products added to the cart without checking out because of unreliable payment methods. At times the payment options available aren't that feasible to them.
Tip 3: Focus on Growth through Email Marketing
Don't have a mailing list yet? Ask all your customers to mention their mail ids in the checkout process while you send them the bills. To get more creative and show some authenticity, you can also conduct surveys for your site and conduct giveaways through our mail list or through social media platforms.
This will increase their engagement on your website. Yet another great idea is to run a paid marketing campaign. This way, you can gather all the mail ids and engage them in ways as talked about.
Wondering now how this will help increase your sales? It's simple. Focus on cross-selling or upselling strategies. For instance, when you find that a customer has purchased anything from your website, you can send an email with exclusive offers. You can send a mail that says get a complimentary product on your next purchase and so on.
Such promotional campaigns can also be run on national holidays and other special days like Valentines' day, the customer's birthday, Christmas offers, etc. This will compel them to buy more with amazing ales and promotional offers. Think more and put your grey cells to use as the promotional ways are simply endless.
Tip #4 Simplifying Checkout Process
The checkout process should always be hassle-free and not too complicated that the customer finds it hard and ends up leaving the cart and exits without placing an order. Many sites make the customers sign up much before they can check out. Try not to make this a compulsion as many people back out when it gets more and more.
Some basic delivery details like the name, number, the delivery address should be made mandatory and not everything.
This process can be further simplified by incorporating certain features like drop-down menus, autocomplete fields or a progress bar.
If you are already running your eCommerce platform in a full-fledged way, then great.But if you are planning to begin something similar soon with the BigCommerce platform, then take into consideration these ideas and tips. Stay assured that they will help in boosting your sales drastically to another level, more than you could have ever imagined. It's the right time to get started!