Gadgets
Ui & Ux Game Design Trends To Focus In 2021
Every year we notice new trends in UI/UX designs. There is a reason why trends in UI/UX change so quickly. It happens because several people start following the trend which gives way to over-saturation. Therefore, designers have to check these trends from time to time to give something new to their clients. In this piece, we are going to discuss some of the top trends in UI/UX design in the year 2021.
Top trends in UI/UX design in 2021:
Everything is virtual and remote
2020 changed everything. It was an extraordinary year that was completely unpredictable. A virus changed the course of the world. All of these changes paved the way for virtual learning and working. VR and AR have found their way into education, healthcare as well as arts in 2020.
Although it is true that many companies tried to include UI/UX design earlier in these sectors, they have failed badly. The pandemic gave the much-needed push to the world to adopt these technologies. Shares of tools such as zoom have soared in the previous year.
Next level personalisation
Personalisation can be described as an approach where brands or companies try to create recommendations and content for every user on the basis of the information provided by them such as their marital status, order history, date of birth and so on.
The aim of personalisation is to make sure that the user feels that the content is made especially for them. Personalisation increases the conversation rate and a high conversion rate is something that most companies aim for.
Personalisation is one of the emerging trends that big companies such as Apple and Google have used effectively by introducing personal assistants with interacting features. It is expected that in the future interfaces will be more personalised giving enhanced user experience.
Another emerging trend in UI/UX is touchless interactions or virtual interactions. This trend has also emerged in the wake of the pandemic. By virtual or touchless interactions we mean several methods of interacting with electronic devices without even touching them. Interactions are generally done through voice mode or air gestures.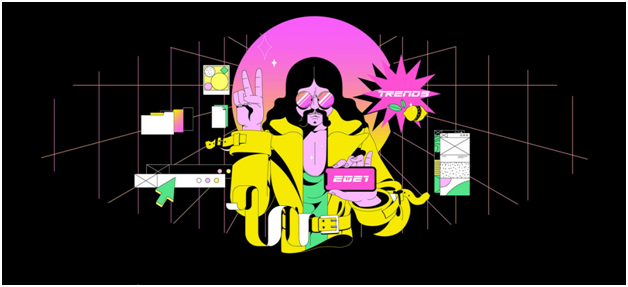 Before pandemics had hit the world, voice interactions were gaining rapid popularity. Touchless interactions would be in trend in the coming future as well. Voice search and air gestures have become very popular these days. People however find it easier to use voice gestures rather than air gestures as there are still some challenges involved in them.
More immersive experiences
Although the 3D design is not something very new it has been in trend this year. This year we are noticing that designers are interested in 3D components. Some recently included revamped icons in their latest update for macOS. Icons in the updated version give a 3D look. What has however changed with the 3D designs this time is that 3D elements are more diverse and are used more practically this time. In 2021 the 3D design is expected to become more popular because of the rising popularity of AR and VR technologies.
The realistic texture is a trend that has attempted to break the monotony of cool and smooth gradients. Designers this time have attempted to introduce uneven and real-life textures.
Users seem to be impressed by the realistic features and textures where they can feel the products on the screen. Realistic textures connect products with customers. Realistic features have great potential in the coming future. This feature is generally used in photos as well as multimedia. It can be especially useful for companies that sell cosmetics or clothes. Designers play with various textures to give realistic effects like grainy effects.
Earlier websites and companies focused on perfection. They aimed to create a perfect design. However, there is a change in this trend too this year. Now designers and companies are in for more unique designs. Designers are now looking for a shift from traditional and orthodox design to something more unique and fresh.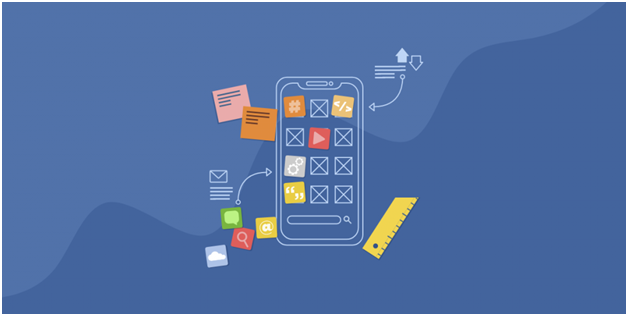 Uniqueness is a factor that affects website promotions as well as it helps in setting the brand apart from its rivals. In 2021 we are going to notice more unorthodox designs and much more creative layouts. This is expected to give more characters to the website.
Illustrations and animations
2021 os rules by illustrations and animations. From 3D, 2D to hand-drawn and custom illustrations you will find everything this year. Unaligned, free forms, asymmetry components help the platform to achieve uniqueness and thus make them stand out from its competitors.
Truth be told illustrations are not something new but they have made a comeback with motion this time which has made them even more popular. Moving animations easily captures the attention of the users and give a quick idea to the users what the brand is about.
Scrolling with storytelling
Storytelling is a great way to attract the attention of users. Storytelling has become extremely popular. It is a very important element of the UI. It plays a great role in creating a great user experience.
This year, more and more brands are moving towards storytelling. One thing that has become bratty popular is storytelling while scrolling. This style captures the attention of the user and keeps them engaged with the users. Scrolling just simple and plain content is not only boring but also monotonous. Storytelling has given the much-needed break from scrolling and thereby it has become so popular this year.
Final thoughts
Trends of 2021 are expected to focus on speed, simplicity, mobile-first approach as well as artificial intelligence. There is however one UI/IX trend that will always be in trend – design relevance and critical thinking. Critical thinking is something that one will always require to build and create better and enhanced designs that will increase user experience and improve their interaction with the website. Design can be aptly described as a visual language that helps users to communicate with the website.
Author Bio: I'm currently working as Android App Developer with TheAppsmiths. I have a great passion for building world-class products as I love technology. In the last couple of years, I have worked with big and small mobile app development companies in India. I have learned new technologies as well as mentoring and helped others to get started in their programming career. I have a keen interest in iPad Development,outsource game development, custom app development, etc.