Finance
Contemporary And: How did POLARTICS start?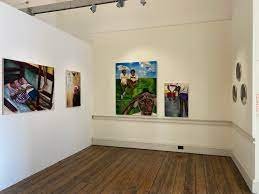 Oyinkansola Dada: POLARTICS was started in 2015 as a blog for African culture and legislative issues in its different features. It was focused on drawing in a younger crowd and throughout the years has developed into a web-based art display, with periodic spring-up shows.
C&: Why POLITICS?
OD: POLITICS is a portmanteau of the words "legislative issues" and "art". My vision was to create a distribution that could draw in with the two ideas on a basic level and at times create an association between the two, particularly inside the circle of political art. I needed to create an information base where young individuals could see the value in the feel of African culture while also remaining politically locked in. As POLARTICS advanced into an art exhibition, I thought the name was as yet significant, since the sort of art that we decide to arrange is intrinsically political. A lot of the artists we work with a focus on character and youth and will not hold back to talk truth to drive.
C&: What is your experience in the arts?
OD: I haven't concentrated on art officially. I concentrated on Global Legislative issues and am presently completing a regulation degree. I've forever been an art fan and I invest a lot of energy in free art study. I'm also continually incorporating thoughts and ideas. There's been a lot of advancing as I go.
C&: What is your objective expertly?
OD: Situating POLARTICS immovably inside the art world as an exhibition that addresses extraordinary arising ability from the mainland — one that isn't your cliché physical display and is more exploratory in its way to deal with organizing and addressing young and different voices. At the center of POLARTICS has forever been the need to hoist the voices of young artists and create a space where they feel sufficiently sure to investigate the limits of their innovativeness. There is also a need, not exclusively to create a space for these artists, however, to also motivate younger Africans to gather. The art world is known for its mistiness and unavailability and I accept a lot of new gatherers need a level of hand-holding to completely make their mark.
C&: Educate us concerning the different channels that POLARTICS uses to advance art?
OD: POLARTICS exists basically online with Instagram and email showcasing being the fundamental concentration. We at present hold three displays per year, yet we're hoping to expand the numbers and investigate organizing in different urban areas. So hope to see more shows, coordinated efforts, and drives and find us at a significant art fair, very soon! (Covid willing).
C&: For what reason should young individuals gather art?
OD: Albeit young individuals aren't the main gatherers we need to work with, they hold an extraordinary spot due to their significance to the environment. A lot of the works being created by the artists we work with a draw in with subjects that are pertinent to African twenty to thirty-year-olds, and I believe an extraordinary extent of these stirs must wind up in their grasp.
It's art created by them, for them. Such a large amount of our way of life is so promptly sent out to spaces where their importance and tasteful worth are fairly valued, yet never actually completely understood. This is certainly not an individual deficiency, truly, it's more about the hole between the artist and the gatherer and it takes deliberateness to connect it.
There's also a component of social conservation here. We don't need what is happening where the majority of the art is gathered by a disengaged crowd. Young individuals ought to find dynamic ways to gather or possibly connect where they can.
Ekene Maduka, Last Dinner, The Absolute Last Piece of the Public moi, 2019. Kindness the artist.
C&: How does POLARTICS advance arising artists?
OD: By expanding their permeability, associating them with art devotees, and putting resources into their artistic development. We're at present during the time spent planning a program that assists our artists with testing more in their training, by giving them the assets they need to create and support themselves.
This way they don't need to stress over the business feasibility of their works. Obviously subsidizing is a test, however, the work needs to be finished to sustain different types of artistic articulation. Past customary media, space needs to be made for modern thoughts in its different structures. I accept art ought to be an impression of the times, and as a few other art structures enhance, so should the visual arts.
C&: For what reason does it check out to have spring-up displays in Lagos?
OD: According to a business point of view it checks out in light of the great overheads of keeping an actual space running. As a display is still in its beginning stages, subsidizing is a significant issue and right now it's essentially illogical to spend such a huge amount on a long-lasting space. Having pop-ups in Lagos gives us the space to consider some fresh possibilities and be inventive, which I believe is really perfect. It also makes things more powerful, as different spaces present new curatorial difficulties and this is consistently amusing to investigate.
C&: How can POLARTICS assist with pushing the story of contemporary art from Africa to the world?
OD: This story frequently disregards the need for a skillet African way to deal with the utilization and safeguarding of culture. There frequently is by all accounts a need to gauge influence by means of the approval of Western media and crowds. My vision is to put the most noteworthy worth on supporting associations inside Africa — our way of life isn't a commodity that needs to be sent out to view as its worth. Its worth, its worth, its legitimacy, it's everything here. It must be delighted in diversely and just from a position of regard. Thus, I think we need to reevaluate our viewpoint a little, very a lot.
C&: Where do you expect to see POLARTICS in the following five years?
OD: I trust that POLARTICS is regarded for putting the development of artists first and introducing thoughts that shift individuals' reasoning of visual art and its part in our general public, past any limits. I trust through this we can light a few truly fascinating, genuinely necessary discussions. I also trust that we can arouse the up-and-coming age of African gatherers.