Lifestyle
Getting beach style right with men's t-shirts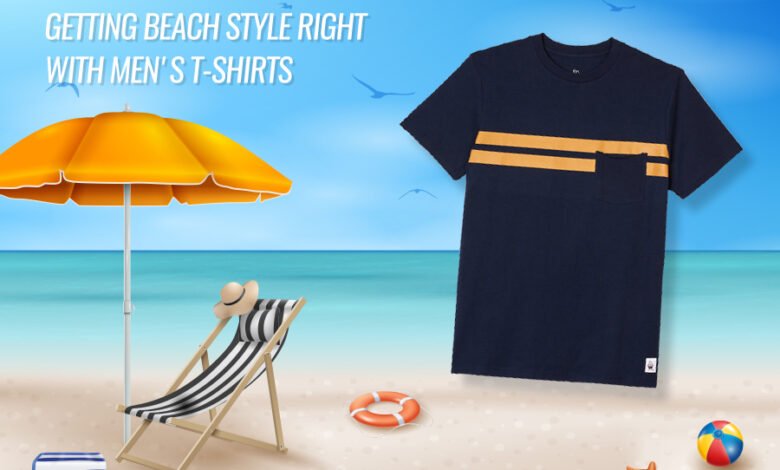 We know, we know — the rise of men's beach clothes has been a dramatic one. But when it comes to your beach-bound style in a time when shorts and a t-shirt are the only appropriate attire for almost everyone else, you need to take a different approach. With men's t-shirts and beach tees being made from breathable fabrics that feel light on our skin and have been cut to not cling or ride up, they're perfect for hot weather.
But that same pair of pants or shorts aren't going to look as good with a lightly fitted white tank top or an oversized long sleeve shirt. If you're anything like us, there are a million and one tank tops out there in every fabric and print imaginable (and some that aren't) – picking the right t-shirt and styling can be a challenge.
When it comes to men's t-shirts for beachwear, you have to pick between the ones that make you look like you just got out of bed and the ones that are made for our bodies and the beach.
So, we'd like to offer some "rules" when it comes to picking out a t-shirt for your beach trip.
The Rules for Picking Men's Beach Tee:
Rule #1: It feels good and doesn't cling to your body.
Rule #2: The size should be picked so you feel both fashionable and comfortable at the same time.
Rule #3: It can be worn with a swimsuit or a pair of shorts.
We know, these 3 rules might seem like common sense, but it is executing them, where the real problem lies. Picking the right fit and size of t-shirt, styling it for the beach, and also feeling comfortable requires patience and some amount of effort.
Lucky for you, we are not done yet. In addition to our rules for men's beach clothes selection, we have a whole lot of advice for styling your look.
Styling Men's T-Shirt for Beach Looks
I think we have established that the new men's t-shirt is a staple all summer – and with that, the struggle begins. Should you stay true to the classic clean look or go for a more stylish trend? When it comes to dressing for the beach, having a good selection of colors can help you pull off any look. While dark colors will often be seen paired with jeans, shorts, and sandals, there are still many ways to show off your preppy side if you play your cards right.
Of course, matching them in color or pattern may seem easy enough but the reality is sometimes scarier than fiction.
Avoid the pitfall of having a bunch of colors and patterns clumped together by thinking of your outfit as a single block to be pieced together. You can have multiple colors/patterns in one t-shirt, but that doesn't mean all of them should be on the same shirt. If you don't want to spend money on two or three shirts, you can always go for a tie-dyed shirt with some solid colors mixed in.
Now, let's talk about some of the hottest beaches looks for men that have been trending this season. Contrary to popular belief, you don't always have to hit the mall or luxurious brands to pull off these looks. Sometimes, all you have to do is raid your closet and get the creative juices flowing!
But don't worry, even then, we have specially handpicked the trendiest looks which you can use to curate your own beach fashion look book this summer and win everyone's hearts!
Here are three chic looks created for the beach.
Beach T-Shirt Paired with Chinos
No, you don't always have to pair beach shirts with shorts only, you can also choose chinos as bottoms for a more sassy and formal look. All you have to do is pair a white, short-sleeved beach t-shirt with chinos and your favorite pair of trainers. You can also leave the front open for a more daring look. Don't forget to wear your sunglasses and sunblock!
2. Monochromatic Look Using a Beach Shirt and Shorts
This fashion season has been all about monochromatic looks. If you really want to bring out the fashionista in you, pair a patterned beach shirt with board shorts – yep, choose the same pattern! Usually, men tend to opt for patterns with beachy graphics. Add a pair of casual, beach sandals and complete this look in style.
3. Sleeveless T-Shirt with Short Board Shorts
If you really want to sizzle on the beach this season, all you have to do is pair a white-colored sleeveless t-shirt with shortboard shorts. Wear your favorite pair of sunglasses and sandals.