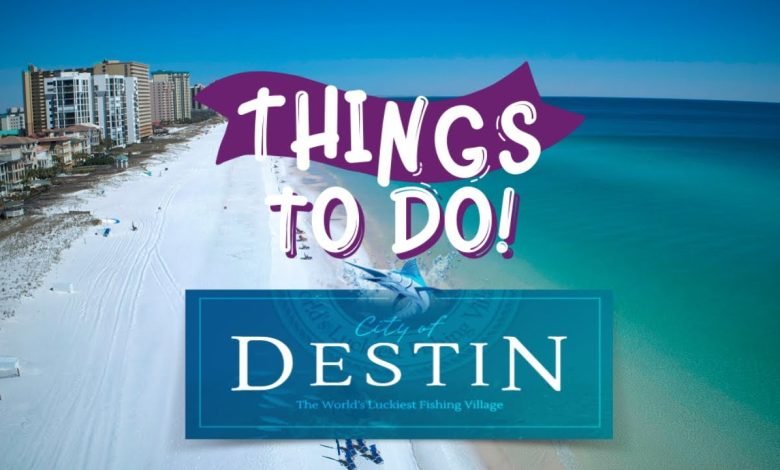 Destin, Florida, is a popular travel destination with abundant fun activities for tourists. With so many options, deciding what to do during your visit can take time. To help you plan your trip and ensure an unforgettable experience, we've compiled a list of things to do in Destin on Vacation.
Whether you're traveling with Family, friends, or your significant other, there's something for everyone in Destin. You'll always have things to do, from thrilling outdoor adventures to relaxing beach days. Some of our top picks include exploring the vibrant marine life through snorkeling, trying your hand at deep-sea fishing, or simply relaxing on the sandy beaches with a good book.
Enjoy a Day Out on the Water by hiring a Pontoon Boat:
Renting a pontoon boat is a fun and popular way to explore Destin's stunning waters with friends or Family. These boats accommodate up to a dozen people, making them perfect for large groups. They're also safe, easy to operate, and comfortable, and they can take you to areas that are otherwise difficult to access, such as Crab Island.
To make your experience even more unique, consider renting a double-decker pontoon boat with one or two slides. Adding this activity to the list of things to do in Destin on vacation will make your vacation even cooler.
Explore Crab Island with an Exciting Adventure Tour:
Experience the ultimate adventure with the Crab Island Adventure Tour, which combines several activities into one exciting trip. This guided boat tour includes two stops at popular boating destinations, including the Gulf Islands National Seashore and the famous Crab Island sandbar. You'll have the chance to go kayaking, paddle boarding, snorkeling, and shelling, and even enjoy an inflatable water park.
The best part is that this all-inclusive tour is more affordable than booking each activity separately. So, take advantage of the chance to have an exciting day on the water. Book your seats on the Crab Island Adventure Tour today and discover why it's quickly becoming one of the top things to do in Destin.
Experience an Explosive Adventure: Set Sail on a Fireworks Cruise
Destin is a beautiful place to catch a stunning sunset. But wait, there's more! Every Thursday night from Memorial Day through Labor Day, and every Saturday in October, there's a fantastic fireworks display over the Harbor. If you're visiting Destin during the summer, you can't miss the chance to go on a fireworks cruise.
Not only will you tour Destin Harbor, but you'll also get the chance to see dolphins as the sun sets. Then, get ready to be amazed as the sky lights up with a brilliant display of colors. Take advantage of this unforgettable experience if you want to take a fireworks cruise; plan and book your seat in advance because they fill up quickly. Click here for more information.
Explore Gulfarium and Meet Fascinating Sea Creatures:
Are you looking for a fantastic marine adventure? Looking for a place to see amazing sea creatures up close? Gulfarium Marine Adventure Park is the best option for you. With regular admission, you'll have access to various fascinating marine life displays and scheduled shows. You can even interact with small marine animals and sea plants at the "touch tank."
The touch tank is a unique and exciting park feature where you can get hands-on with small marine creatures and plants. It's a great way to learn about marine life in a fun and interactive way.
But that's not all – for an additional fee, you can have even more unforgettable experiences with marine life which will add more fun to your Destin Florida thing to do list . Feed the penguins, meet the dolphins, go "fishing" in a stocked tank, and more! These unique encounters will surely make your visit to Gulfarium even more exciting and memorable.
Overall, Gulfarium Marine Adventure Park is a perfect destination for families who want to experience the wonder of marine life. With so much to see and do, it's no wonder that Gulfarium is consistently rated as one of the best things to do with kids in Destin.
Get Up Close and Personal with Aquatic Life by Feeding the
Fish:
Looking for a unique dining experience in Destin? Look no further than The Edge Seafood Restaurant, built on the water and offers incredible harbor views. But that's not all – they also have fish feeders around the restaurant's perimeter, allowing you to feed the fish that swim around the docks while you dine.
Things get even more exciting at night – underwater lights light up and attract the fish, so you can see them as they attack the food. Kids love this feature and can stay occupied for hours in just a few quarters. Meanwhile, you can relax and enjoy a quiet meal or a few drinks, knowing your kids are entertained and happy.
Discover the Beauty of Dolphins on a Waverunner Tour:
Destin is known for having some of the world's largest populations of bottlenose dolphins, making it a popular destination for those who love marine life. And what better way to see these beautiful and playful creatures than on a waverunner dolphin tour? This activity combines two popular things in Destin – jet skiing and dolphin watching. It's no surprise that it's become one of the most popular activities in the area.
On a guided dolphin tour, you'll have the opportunity to see these beloved marine mammals up close and personal. You'll ride on a waverunner. It is a type of personal watercraft, and you have to follow a trained guide who will take you to areas where dolphins are known to congregate.
The dolphins are used to these tours and often swim up to the wave runners, providing an incredible up-close experience.