Business
7 Must-Have Software for Screenwriters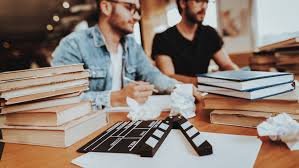 No software can replace the human touch when it comes to the craft of screenwriting. However, tools may come in handy along a screenwriter's professional journey. This article explores several essential freemium tools that make writing screenplays a breeze.
Top Apps to Boost Your Productivity as a Screenwriter
A professional screenwriter must deliver the best writing to create a solid reputation in the film industry. As a result, employing the most relevant tools become necessary. Whether you're just starting out or have been in the field for a while, here are some ways to work better.
StudioBinder: A Powerful Screenwriting Software
As a screenwriter, you must invest in professional screenwriting software to get the most out of your writing endeavors. While MS Word or Google Docs allow you to format the scripts using third-party templates, tinkering with them will only add to the stress.
For this reason, you should include Studio Binder in your workflow. This dedicated application allows you to automatically format your screenplays according to industry standards as you develop your movie script. Furthermore, it provides a clean and intuitive interface that helps you focus and reduce distractions. You can brainstorm ideas, take notes, jot down ideas and eventually create a production-ready screenplay without hassles.
Evernote: Your Knowledge Repository
Screenwriters write stories. As a result, organizing all the knowledge they have is quintessential for optimal performance. Evernote is a feature-rich notetaking program that can help you build your knowledge base.
Capturing great plot ideas and character sketches is incredibly straightforward with Evernote. The tool strives to provide a convenient user experience by allowing you to sync your notes across multiple devices and share them with your associates.
Letterboxd: A Movie Tracker
Being a screenwriter requires you to watch a lot of movies. Sounds fun, right? But as a professional, watching movies has more to do with learning than entertainment. Keeping track of the films you've seen and writing down your impressions will ignite your inspiration. The most popular movie-related app is Letterboxd, which comes for free.
Letterboxd is a simplistic yet powerful app with an extensive movie database. You can rate films, comment on them, add them to watchlists, look at what other people are watching, and compile a personal viewing record.
Todoist: A Checklist for Maximum Productivity
To-do lists, touted as the most effective productivity tool, are also the most simple to use. A digital checklist to display everything you need to do for the day in front of you can be a game-changer.
With Todoist, you can enter new tasks, schedule them for multiple days and times, manage repetitions, or assign them to particular segmented projects. The app's biggest strength is its high customizability, which helps it readily adapt to your unique workflow.
Toggl: Your Effortless Time-Tracking Solution
Efficient time management is unquestionably the most critical aspect of productivity. Toggl is a simple app that helps you track the time you spend on your projects. The app has a stopwatch that you toggle when you start and finish a job. Tracking time can dramatically improve your project management skills by enabling you to objectively assess how long you spend working on a project.
Noises.Online: Focus With Background Music
For some people, loud music hampers their ability to focus. However, researchers suggest that soothing and minimal music  may increase one's ability to concentrate. Productivity experts, thus, recommend playing ambient music to enter a deep working state. Visit Noises. Online to freely work with premium masking sounds for free. 
Encrypted Proxies: A Digital Privacy Solution
Find a proxy service provider that helps you access web content securely with encrypted proxies. Proxies from a particular country will give you full access to content restricted to the region. These tools will be helpful when you need to research the film industry known as Bollywood, for example. If you want to buy an India proxy, IPRoyal is the best you can get. This vendor takes its users' security seriously. All servers are private and safe from malicious hackers.
Final Thoughts
Showbiz is a dynamic career field where every professional must keep up with updated methodologies and technologies to deliver the most relevant and optimal performance. Like every other person in the industry, you as a screenwriter should also employ the best tools available to increase productivity. Try out these programs and customize them to fulfil your unique requirements. Thus, you can exhibit the highest levels of competence to your employers and associates only to earn the reputation of a lifetime!