Business
How I Went From A Successful Consultant To Running My Own Ground Biz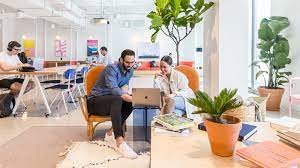 It all started when I was working as a consultant. I was helping a big company with its social media strategy and I was loving it. I was also making good money. But there was something missing. I wanted to be my own boss. And so, I took the leap and started my own ground business. It's been a few years now and I've never looked back. If you're thinking of making the same transition, here are a few things you should know. From the initial investment to the day-to-day grind, here's what it's really like to run your own ground business.
Why I decided to start my own business
There are many reasons why I decided to start my own business. First and foremost, I wanted to be in control of my own destiny. As a consultant, I was always at the mercy of my clients and their budget restrictions. I also felt that I could provide a better product or service than what was currently available in the marketplace.

Another reason for starting my own business was to create a better work-life balance. As a consultant, I often worked long hours and weekends in order to meet deadlines. This left little time for family and friends. By starting my own business, I would be able to set my own schedule and make time for the things that were important to me outside of work.

Lastly, I wanted to challenge myself both professionally and personally. Running my own business would allow me to utilize all of the skills and knowledge that I had acquired over the years while also forcing me to grow in new ways. It was an opportunity that I could not pass up!
How I went about making the transition
I was never the type of person to sit still for long. Even when I was working as a consultant, I was always looking for ways to improve my skills and grow my business. So, when the opportunity to start my own ground-based business presented itself, I didn't hesitate.

I did a lot of research on the different aspects of running a business before making the transition. I talked to other business owners, read books and articles on entrepreneurship, and took courses on business management. I also worked with a coach who helped me develop a plan and set goals for my new business.

Making the transition from being a successful consultant to running my own ground-based business was not easy, but it was definitely worth it. I'm now doing something that I'm passionate about and that has allowed me to create my own success story.
What my business offers that others don't
I offer a unique combination of expert consulting services and on-the-ground business experience that helps my clients achieve their desired outcomes.

Most consultants are excellent at helping organizations assess their needs and develop strategies to improve performance. However, they may not have the hands-on experience necessary to implement those strategies effectively. I offer my clients a rare blend of skills and experience that allows me to help them not only develop the right solutions but also implement them successfully.

In addition, I am extremely passionate about the work I do and the difference it makes in people's lives. This drives me to continuously innovate and find new ways to help my clients achieve their goals. It also means that I am always learning and growing as a professional, which helps me better serve my clients.
The biggest challenges I've faced so far
There are a few things that have been challenging for me since making the switch from consulting to running my own ground business. The first is getting used to not having a regular paycheck. When you're self-employed, your income can be very unpredictable. This can be stressful at times, especially when you have bills to pay and mouths to feed. Another challenge has been learning how to manage my time and prioritize my tasks. When you're your own boss, there's no one telling you what needs to be done and when. It's up to you to stay on top of everything and make sure that things get done in a timely manner. Additionally, I've had to become more comfortable with networking and self-promotion. In the consulting world, your work speaks for itself and clients come to you based on your reputation. However, when you're running your own business, you often have to put yourself out there more and sell yourself in order to attract clients and grow your business. While these challenges can be daunting at times, it's all part of the journey of being an entrepreneur.
How I've been successful so far
I'm often asked how I went from being a successful consultant to running my own ground business. The answer is simple: hard work, dedication, and a bit of luck.

I started my career as a consultant for a small firm. I quickly learned the ropes and was soon promoted to associate partner. After a few years, I decided to strike out on my own and start my own consulting firm.

The transition wasn't easy, but I was determined to make it work. I put in long hours, worked weekends, and did whatever it took to get new clients. Luckily, my hard work paid off and my business took off.

In the past few years, I've been fortunate enough to build a successful ground business. We now have a team of employees and contractors who help us with everything from marketing to operations.

I attribute our success to our dedication to our clients and our commitment to always putting their needs first. We're always looking for new ways to improve our business and provide the best possible service to our customers.
What the future holds for my business
As a business consultant, I often get asked what the future holds for businesses. While I can't predict the future, I do have some ideas about what the future may hold for my own business.

In the short term, I see continued growth for my business. I have been able to successfully tap into new markets and grow my client base. This growth will continue as I continue to offer quality services and exceed my client's expectations.

In the long term, I see myself running a successful ground-based business. This type of business is becoming more popular as people are looking for alternatives to traditional brick-and-mortar businesses. I believe that this trend will continue and that my business will be successful because of its unique offerings and commitment to customer service.
Conclusion
I'm so grateful that I made the decision to start my own ground biz. It's been a lot of hard work, but it's also been immensely rewarding. I love being my own boss and having the freedom to create my own schedule. If you're thinking about making a similar career change, I highly encourage you to go for it! You won't regret it.