Lifestyle
Dressing for Success: What to Wear Golfing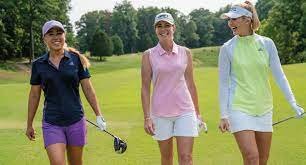 Introduction:
Golf is a sport that requires not only skill and precision but also appropriate attire. Wearing the right clothing not only enhances your performance but also adheres to the etiquette and traditions of the game. Whether you are a seasoned golfer or a beginner looking to hit the links, this article will guide you through the essential elements of what to wear when golfing.
Comfort is Key:
To perform at your best on the golf course, comfort should be your top priority. Opt for breathable fabrics that allow freedom of movement. Choose moisture-wicking materials that keep you dry and comfortable, even in warm weather. Look for lightweight and stretchable clothing that won't restrict your swing. When it comes to golf, feeling good is just as important as looking good.
Golf Shirts:
Collared shirts are a staple in golf attire. Polo shirts are the most common choice, made from lightweight fabrics like cotton or polyester blends. Avoid sleeveless or tank tops, as they do not align with golf course dress codes. Many golf courses also require shirts to be tucked in, so keep that in mind when selecting your attire.
Bottoms Up:
When it comes to bottoms, golfers have a few options. Men can choose between golf shorts or trousers, while women can opt for golf skirts, skorts, or trousers. Regardless of your choice, ensure that your bottoms are tailored and fit well. Avoid jeans, sweatpants, or athletic shorts, as they are generally not considered appropriate golf attire.
Footwear Matters:
Proper golf shoes are essential for stability and traction on the golf course. Invest in a good pair that provides support and comfort throughout your game. Spikeless golf shoes are becoming increasingly popular as they offer versatility and can be worn both on and off the course. Ensure that your shoes are clean and in good condition to maintain the golf course's pristine condition.
Mind the Accessories:
While not mandatory, accessories can add both style and functionality to your golfing outfit. A hat or visor can protect you from the sun and keep your focus on the game. Sunglasses with UV protection are also recommended to shield your eyes. Additionally, consider wearing a belt to complete your look and keep your bottoms securely in place.
Dressing for the Weather:
Golf is played in various weather conditions, so it's important to dress accordingly. On hot and sunny days, wear lightweight, breathable fabrics and don't forget sunscreen. If it's cooler or there's a chance of rain, layering is key. Opt for a windbreaker or a sweater to keep warm, and pack a waterproof jacket in case of showers. Always be prepared for changing weather conditions to ensure a comfortable and enjoyable round of golf.
Conclusion:
Proper attire is an integral part of the golfing experience. By following these guidelines, you'll not only meet the dress code requirements but also enhance your comfort and performance on the course. Remember, golf is a game of tradition, and dressing appropriately demonstrates respect for the sport and its etiquette. So, dress for success and hit the greens in style!